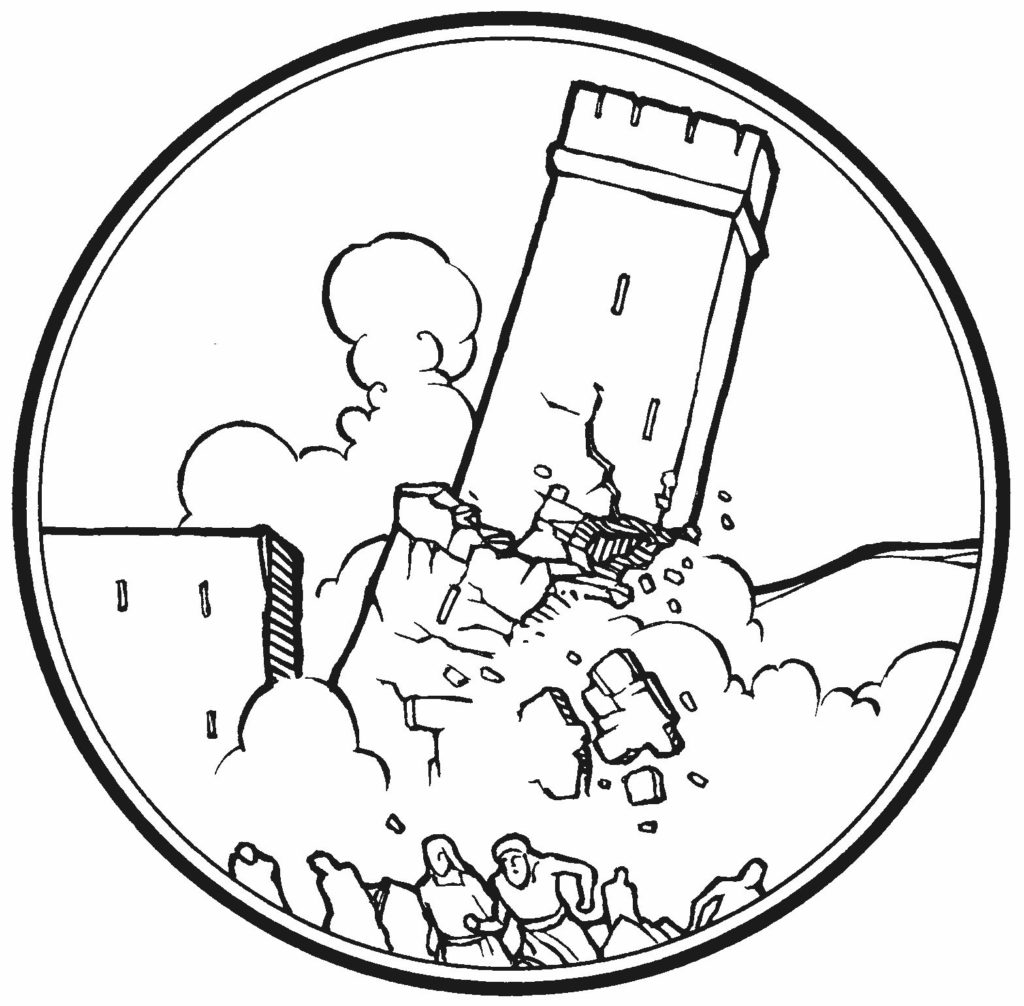 Four years ago 21 Egyptian Christians were beheaded on a beach.
Two months ago 20 Philippine Christians were killed by a bomb in their church.
And just last week 300 Nigerian Christians were slaughtered in their homes.
When horrible things like this happen, especially to Christians, 
There is a range of possible reactions.
The first one, rightly, is shock, horror, and sadness.
We grieve at the state of the world and we mourn.
Another response is to ask why.
Why did this happen to them?
Did God bring this upon them as judgment?
In the cases I just named, the answer is obviously "no."
I offered them because Jesus doesn't want us speculating,
And trying to sort out people by their tragedies.
This is exactly what the people are asking Jesus in the Gospel today.
Tell us about those Galileans that Pilate killed.
What did they do?
What was God punishing them for?
Were they worse sinners than the other Galileans, 
That God allowed them not only to be killed, 
But also for their deaths to be defiled and their blood mixed with pagan sacrifices?
Surely, they were especially wicked.
Jesus' short and simple answer is "No."
No, they're not worse sinners than anyone else in Galilee.
Just like those 18 poor souls on whom the tower of Siloam fell.
They weren't worse sinners than anyone else in Jerusalem.
And now that we're clear on that matter, let's just be honest.
You're asking Me about them,
But the one you're really wondering about is yourself.
Because as long you can be sure that they were somehow worse sinners than you;
Then you can go on thinking that you're in pretty good shape.
"But," says Jesus, "unless you repent, you will all likewise perish."
Of course, the wages of sin is death (Rom. 6.23);
And so we can and must say that death in general is a consequence of sin.
But that's not what the people were asking.
They mean to ask if those folks were being punished for something special.
In some ways we've become sensitive to this.
Nowadays that kind of an inference is too brash for us.
No longer do we boldly assert God's judgment in such situations.
And we shouldn't;
Because in most cases, we can't know.
So while we tend not to make the mistake of assuming that God is punishing people for particular sins,
As the people gathered around Jesus do today,
We instead assume that He absolutely, positively, isn't;
And even that He wouldn't (punish sin).
After all, when was the last time your saw a man struck by lightning,
Simply because he was teaching heresy in the public square?
How long has it been since 23k people died in a single day for sexual immorality? –
An example that Paul recalls in today's Epistle.
He gives that and other examples because we mistake patience with permission.
Maybe you don't hear it as often as I do – even, sadly, from some pastors,
But consider how many times have you heard people dismiss and excuse any kind of behavior, practice, or teaching in the church with a chuckle, all because…
"The church didn't burn down."
The logical conclusion, of course, is that as long as the church doesn't burn down,
Then God must approve.
That sort of nonsense is just the other side of the same coin.
That sort of nonsense asserts that so long as the tower of Siloam stays standing, 
Then God approves of everything going on, and the people have no need to repent.
And if that is true, so also the inverse:
If the tower falls down, then they must have had it coming.
Try pedaling that empty and vain theology of glory with the faithful at Trinity Lutheran Church in Milwaukee, whose sanctuary burned to the ground last summer.
Of course you wouldn't.
Just like you wouldn't try saying such a thing to Pastor Dutzmann and his family, 
Whose home literally exploded only five short years ago.
If you wouldn't say that to them,
Neither should you make such a mistake in your own lives;
Neither should you assume that just because your towers are still standing,
And you have not borne the obvious and acute punishment for your particular sins,
That God approves of them.
This is what St. Paul teaches in his letter to the church in Rome when he writes:
Or do you presume on the riches of his kindness and forbearance and patience, 
not knowing that God's kindness is meant to lead you to repentance? 
(Rom 2.4-5)
All this patience, all this kindness, all this grace – it is not permission.
It is a divine mercy meant to lead you to repentance.
This is what Jesus is getting at when He tells them the parable of the barren fig tree.
The tree isn't doing what it's supposed to do.
Its one job is to bear fruit, and it isn't.
So what good is it?
Cut it down.
Though he would be justified in following those instructions,
Jesus is the patient Vinedresser who holds out judgment in mercy.
He tended it and nurtured it and cared for it with patience.
But that patience does eventually come to an end.
We do not wait for next season.
The time for repentance is now.
The time to bear fruit in keeping with repentance is now.
That repentance is not a transaction with God for the temporary relief of guilt.
It is a turning away from everything that is evil in His sight,
And a turning toward the One who is merciful. (Nafzger)
So do not turn your thoughts to those Galileans that Pontius Pilate had killed,
Whose blood was shamefully mixed into his sacrifice.
Instead, turn your thoughts to this Galilean who suffered under Pontius Pilate,
Was crucified, died, and was buried.
Because this Galilean, this Jesus, actually was being punished for sin.
Pay no heed to History Channel or A&E,
Or any of the dribble that floods the networks during Holy Week.
They're going to try and tell you that Jesus was a victim of circumstance;
That He was falsely accused of rebellion and disturbing the peace.
And what a travesty.
It's one of the few times we can truly say someone is suffering the divine penalty for sin.
This is the thing the world can't come to grips with:
Not just that sin, if there is such a thing, ultimately has to be dealt with,
But that Jesus is the now who deals with it;
That Jesus suffers for your sin and not His own.
Of this there is no doubt:
For our sake He made Him to be sin who knew no sin, 
So that in Him we might become the righteousness of God. 
(2 Cor. 5.21)
Like that barren tree, Jesus has nurtured you, tended to you, and cared for you.
He's watered you in Baptism, and fed you with His own Body & Blood.
He's given you His Holy Spirit, that you would bear fruit in keeping with repentance.
The time is now.