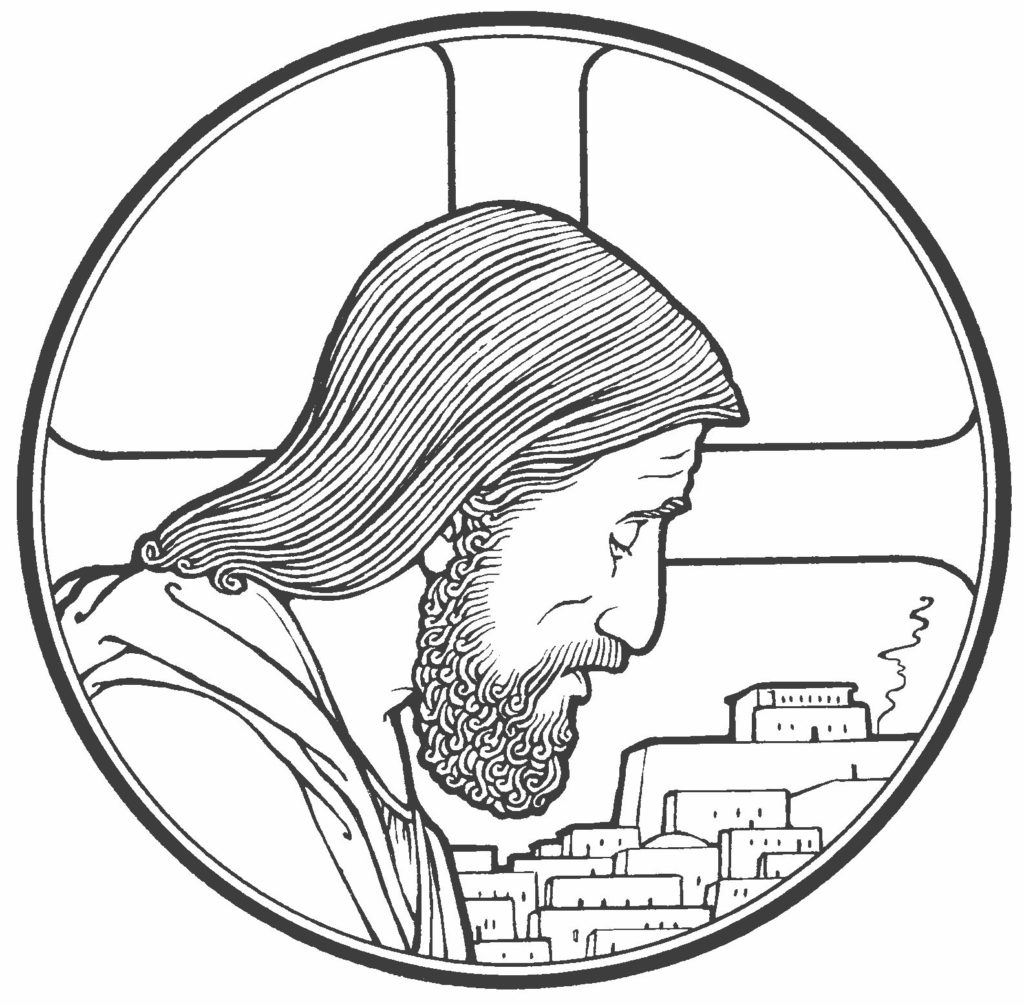 INI
You and I are more accustomed to the sheep analogy. And, most days, that works just fine. You've all seen the classic painting:
The little sheep lofted up on Jesus' shoulders looks comfortable and happy. And so, that's an easy image to handle.
But today Jesus talks about us in a different way. Today, Jerusalem is, and we are, little bitty chicks –
Freshly hatched, chirping and running around, – at least we're supposed to be.
It is a cute picture that Jesus paints, but ultimately, it isn't really all that appealing on a personal level.
I know, because I did a small survey.
Given the choice, nine out of ten people prefer to be a fox.
That's not surprising! That makes total sense! Foxes are way more appealing!
They're quick and cunning, resourceful and clever.
They've got sharp teeth, and know how to use them. Foxes go where they want, when they want.
Who wouldn't prefer that?! It's the American way!
Maybe the little yellow chick had a friendlier appearance. Or maybe she recognized it from her favorite pajamas.
Maybe I encouraged that chick option just a little bit…
Whatever it was, little Lucia was the only one who preferred the chick over the fox
Which, of course, made daddy very happy.
And that would make Jesus happy, too.
For everyone to be like little chicks: utterly vulnerable and completely reliant on another; that is what Jesus would like best.
And so it is in precisely that way that Jesus has come to gather everyone up.
To find all His vulnerable, little ones, who could never fend for themselves,
To bunch us together, to gather us around Him and His gifts,
And to bring us home with Him. That's what Jesus wants most.
But that is not what Jesus gets.
I don't know if He's angry. But He's certainly disappointed. For He came to give us good things.
O Jerusalem, Jerusalem, the city that kills the prophets and stones those who are sent to it! How often would I have gathered your children together as a hen gathers her brood under her wings, and you were not willing!
Chicks don't kill prophets. That's something foxes like Herod do.
That's something foxes like us do,
When we appoint ourselves judges over God Himself. We decide what Word from Him we like, and what Word we don't like. What we'll have, and what we'll explain away.
Because, really, why in the world would the God who created the Universe out of nothing at all, who is Himself Wisdom and Truth,
Why would He ever behave in a way you might find unusual? It's crazy.
"If God were really God, or if He were really good, He would do things the way I would do them."
Even in the church, we've become the self-appointed critics, not just over the Word, but of the prophets God graciously sends to us.
We decide whether we will receive him or reject him.
The man God sends shows us our sin, and we, like Jeremiah's hearers shriek:
"You shall die! Why have you prophesied in the name of the LORD, saying, 'This house shall be like Shiloh, and this city shall be desolate, without inhabitant'?"
Or, in the modern day
"Don't you tell me I'm a sinner. Don't you tell me to change. Don't you tell me what I feel in my heart is wrong? Don't you tell me what God means in His Word, I will decide what God means. Who do you think you are, anyways? The Messiah?"
That's what they said to Jeremiah. That's what they said to Stephen as they stoned him. That's what they said to Jesus. But,
"The LORD sent me to prophesy against this house and this city all the words you have heard. Now therefore mend your ways and your deeds, and obey the voice of the LORD your God, and the LORD will relent of the disaster that he has pronounced against you. But as for me, behold, I am in your hands. Do with me as seems good and right to you. Only know for certain that if you put me to death, you will bring innocent blood upon yourselves and upon this city and its inhabitants, for in truth the LORD sent me to you to speak all these words in your ears.
And the people replied. "His blood be on us, and on our children."
There's some prophetic words.
Even now, Jesus is marching to the cross where He will be again rejected
And so, the woe for Jerusalem this Sunday is a woe for each and every sinner.
Like Herod the fox and the deceitful Pharisees, we've not been willing to submit to our Savior's will, and to be gathered in his arms.
We, like all enemies of Jesus, are guilty for his death.
And yet it is God's will that we and all the would-be enemies of Jesus be gathered under His cross, looking at the price of our redemption.
There, on the cross, He has been forsaken, instead of you and your house.
There, rejected, lifeless, and utterly deserted, He wins forgiveness for every fox, every Herod, every critic and cynic, every liar and Pharisee, even you. Even me.
Thanks be to God that Jeremiah was right, that the death of this Prophet, Jesus the Christ, brings innocent Blood upon us.
On the cross, Jesus has gathered Jerusalem and the whole world under His bloody arms, as a hen gathers her chicks under her wings.
Praise be to Christ. He has done all things well.