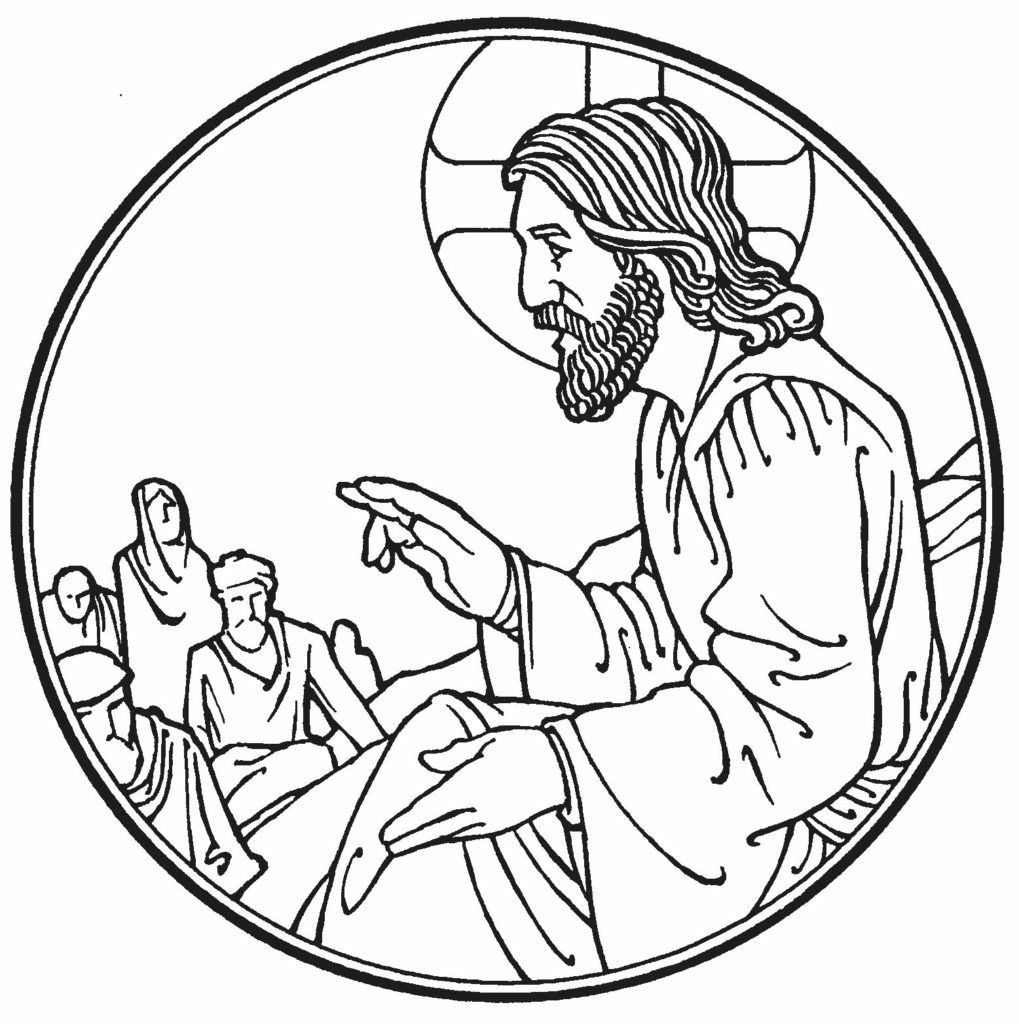 This is the fourth of five homilies on the Lord's Prayer, which is our focus for Lenten midweek services this year.
Psalm 145; Exodus 16:1-8; Luke 22:14-23
INI
Give us this day our daily bread, and forgive us our trespasses, as we forgive those who trespass against us.
There is a beautiful thread that weaves all three of this evening's readings together:
God provides, and God saves.
If that were it, of course, you who have already enjoyed the midweek soup and salad, 
And who are already saved…you could just go home.
But since the Gospel is always more and not less, we'll aim for more.
All of this evening's readings  enjoy their own unique contexts. 
The Psalm, the account from Exodus, and Jesus' words stand on their own.
But they were collectively chosen for tonight as we meditate on the prayer Jesus gave us. 
For starters we are happy to say that daily bread is…bread; that is to say, it's food.
Yes, it's also those other things you know so well from learning the Small Catechism,
And you should review them later. That's why we put them in your bulletin.
But daily bread, i.e. food itself, has always been the simplest understanding.
This is likely why you recognized Psalm 145. 
Because baked into it is the key ingredient of Luther's table prayer:
The eyes of all look to you,
and you give them their food in due season.
You open your hand;
you satisfy the desire of every living thing.
If you use this Psalm and this prayer at your table, it stands to reason that you're doing it daily.
And that's the point – that God gives you today the bread for today.
The psalmist uses the term "due season."
It means: at just the right moment; when you need it; at the appropriate time – even daily.
In the exodus from Egypt this daily bread was sent for a dual purpose.
Of course, God sent the mana from heaven so that the people could have something to eat.
This is the part that makes the most natural sense and needs the least explanation.
But there is a lot more going on here.
The mana is not only for their bodies, but for their souls. 
The bread God provides is for the whole person.
God sent this mana from heaven so that when they eat it, they would learn to trust Him.
If you chase this story down you see what happens if they won't (trust Him):
If they tried to keep today's bread for tomorrow, just in case God forgot to provide, it spoils.
It crumbles and grows worms and stinks up their tents. It becomes inedible and useless.
Our Father in heaven wanted them to learn to trust Him as the One who provides daily bread.
And so this element in Jesus' prayer is not exactly a new thing:
Asking for tomorrow's bread is as good as asking for yesterday's bread –
Neither will do you any good today.
But while trust in God is at the center here, it is not only trust in God for food.
The food is not received all on it's own as an end in itself.
In preparation to receive daily bread, Moses and Aaron say to all the people of Israel:
At evening you shall know that it was the LORD who brought you out of the land of Egypt,  
and in the morning you shall see the glory of the LORD…
What this means is that the providence of God is best understood within the deliverance of God.
That is why the psalmist so naturally transitions from daily bread to salvation.
The LORD is righteous in all his ways
and kind in all his works.
The LORD is near to all who call on him,
to all who call on him in truth.
He fulfills the desire of those who fear him;
he also hears their cry and saves them.
In light of this we better understand why Luther summed up the petition the way he did:
"God certainly gives daily bread to everyone (even) without our prayers, even to all evil people, but we pray in this petition that God would lead us to realize this and to receive our daily bread with thanksgiving."
In gratitude that comes from faith, we receive today's bread today.
Tomorrow's bread will come tomorrow.
For in God's hand lay everything: All of us, all our bread, and all our tomorrows.
What was clear to God's people as they gathered mana daily,
What was proclaimed by the psalmist,
Is now also recognized by us:
God's providence extends beyond the bread.
God's providence extends even beyond today.
This is why our Gospel text this evening is from the institution of the Lord's Supper.
Jesus gives His Body and Blood to eat and to drink for the forgiveness of sins (Mt 26.28)
He is the Living Bread that comes down from heaven (Jn 6.51)
He is the Bread which a man eats and lives forever (Jn 6.51)
In Christ, the Bread come down from heaven, is the forgiveness of your sins.
This is more gracious than food and drink, clothing and shoes, house and home.
This Bread gives the forgiveness of sins,
For any moment in which we would be happy to receive daily bread,
But would not hallow God's Name or let His kingdom come.
For the sake of Christ your prayers are heard by your Father in heaven.
He does not look at your sins and make decisions in keeping with them.
In Christ everything is forgiven by grace,
And in Christ everything is given by grace:
Daily bread included.
In all of this there is no lack.
No lack of bread.
No lack of forgiveness.
No lack of grace.
And so you are free to pass all of that along to your neighbor.
Amen.